Daryl, Adam & Mariah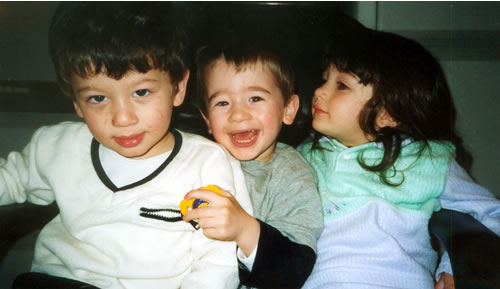 Hi, we are Mariah, Daryl and Adam Ruggier, 2 year old triplets. We came into this world on the 14th January 2002 at 10:00 am, 10:01am & 10:02am respectively. We weighed just 2.75Kg, 2.2Kg and 1.8 Kg respectively. I Daryl, was in S.C.B.U. on my first day , then Adam joined me there during the night, but we soon joined our mother and sister the next day in Post Natal Ward. Adam and I spent the first 2 weeks in an incubator, trying to figure out how to drink milk out of a bottle. Mummy and Daddy promised us that if we started to drink properly from a bottle, she would get rid of the nasty N.G. tube we had probed up our tiny noses. By the end of January, the 3 of us and Mum were all sorted and ready to go home.
And here we are in the photo enjoying the company of each other (that is if we are not fighting over a toy).
We love watching Teletubbies, playing with our cousins & jumping on Mum and Dad's bed
Bye,
Daryl, Adam & Mariah